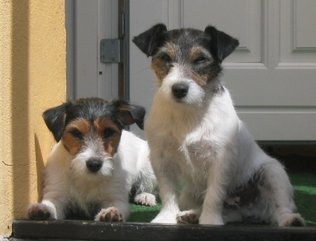 Om os
Vi er et dansk/engelsk par med vore Jack Russell Terriere som vores store hobby. Vi bor i hus med en dejlig hundevenlig have.
Det hele startede i Oktober 2005 da vi hentede Daisy, 10 uger gammel, hos Kennel Vangsgaard i Thisted, Nordjylland. Vi blev så utroligt glade for Daisy og efter kort tid var vi i Thisted igen for at adoptere endnu en dejlig Jack Russell, Sybil 13 måneder gammel.
Vi begyndte at udstille Daisy og Sybil og blev lidt bidt af det, så vi bestemte os for at opdrætte Jack Russell Terrier.
Vi fik kennelnavnet "Daisy Blossom's" godkendt af FCI og DKK i 2007.
For at forny blodlinierne købte vi i Oktober 2007 en hanhvalp i Holland, "A Boy like Allstar of Cathy's Cottage" og han har allerede vist sig godt på national- samt international udstilling.
Siden da alting har taget fart....
Vores mål er at opdrætte få sunde, velafbalancerede Jack Russell Terriere indenfor FCI standarden. Alle vores Jack Russells er en del af vores familie og de BOR sammen med os.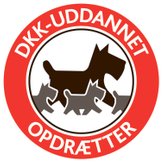 04.02.2008 Modtaget diplom for at have gennemført DKK's opdrætteruddannelse samt overbygning og godkendt ved besøg af DKK's kennelkontakt.
I foråret 2008 startede Kirsten sin uddannelse som eksamineret hundemassør (DEH) hos Bente Iversen. Bestået eksamen December 2008. En god dag! Klinik ("Top To Tail" - Esbjerg Hundemassage) er etableret på hjemmeadressen.
About us
We are a Danish/English Couple with Jack Russell Terriers as our passionate hobby.
It all started in October 2005 when we collected Daisy from Kennel Vangsgaard in Thisted, Northern Jutland. We fell so much in love with Daisy, that it was not long before we returned to Thisted to adopt Sybil, another angelic 13 month old Jack Russell.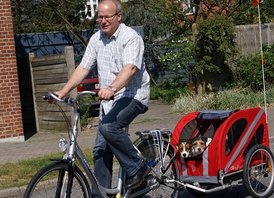 We started to show Daisy and Sybil and realized we would like to start breeding our own Jack Russells.. so we had a FCI and Danish Kennel Club recognised kennel name in 2007 called "Daisy Blossom's"
In order to improve the blood line, we purchased an adorable male puppy from Holland, he was "A Boy like Allstar of Cathys Cottage". That was October 2007 and now he is a consistent, very good performer at National and International shows. Since then, things have snowballed...
Our main goal is to breed a few healthy, well balanced Jack Russell's within the FCI breed standard.
All our Jack Russells are part of our family, they LIVE together with us.
04.02.2008 Kirsten received Diploma for passing Danish Kennel Club Breeder's Course and this is approved by the Danish Kennel Club.
In the spring of 2008, Kirsten started a course to become a Vetinary Examined Dog Masseur.
She graduated in December the same year and since then, has been running a clinic at her home in Esbjerg.
Galleri med billeder fra vores liv med hundene: / Gallery with Photos from our lives with the dogs: